Dreamland Villa has partnered with Sunshine Acres Childcare's Home to assist them with funding through textile recycling. Phoenix Fibers is a textile recycling company located in Chandler. They will collect and recycle fibers. This is similar to our program for recycling paper. The fibers are used to make "GREEN" insulation. Every item gets a second use before entering the landfill, and no textiles are exported.

The Recycle Bin is located on the north parking lot near the DVCC Library. You may place:
all clothing, new, old, damaged
all linens including sheets
all towels
all types of shoes
For other large items such as televisions, furniture, appliances, electronics, antiques and kitchenware you may call Sunshine Acres to schedule a donation pickup at 480-981-4141.
Dreamland has this opportunity to reach out to the community to recycle textiles and give back to Sunshine Acres at the same time.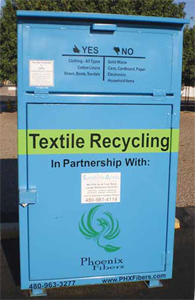 In north parking lot near the DVCC Library