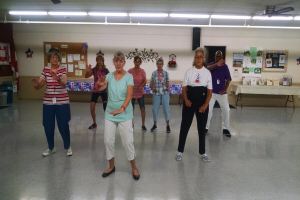 Robin Ferlick, Teacher in foreground and Kimo, Sifu, right
Tai Chi is a graceful form of exercise that involves a series of movements performed in a slow, focused manner accompanied by deep breathing. It is also an excellent way to reduce stress and get exercise.
We are fortunate to have Kimo Kamamatu, a Dreamland Villa resident who has over 40 years of experience, offering this class. The form taught in these classes was created by Kimo specifically for seniors so age is not an issue. Movements are not difficult to perform.
Tai Chi is offered year round at Read Hall with one evening class on Mondays from 5:00 to 6:00 p.m. Morning classes are held on Tuesdays and Thursdays from 9:00 to 10:00 a.m. A small donation may be made for each class you attend. Classes are open to all residents. Please wear athletic shoes and bring a container of water.
Always check the calendars for current dates and times.